Vlada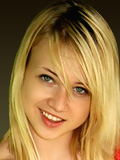 From:
Age at first shoot: 18
Height: 163 cm
Weight: 48 kg

Hello from Vlada

Hello! My name is Vlada! I am 18 y.o. now and all my life I am living in the wonderful capital of Ukraine − Kiev. Kiev is the best city in the World! I like every corner and every street in this city. I like fast and noisy day-Kiev and silent and mysterious night Kiev. I like to go for a walk in the night, because only in the night I can hear and feel real spirit of this amazing city!

Nowadays I am first-year student. I am studding in one of the best Kiev Universities. I will be designer in my future! I like to draw very much!
I have to tell you, that it is my old dream to be the designer! From my childhood and till now I am fond of all the displays of culture! I like to visit museums, theatres and various presentations.

For sure, I like to have a good time with my friends! I have a lot of friends and we often have active rest together at the nature. Besides I like sports and dancing. It is not so popular today, but I like to read books! Yeah, usual paper books! Amazing classical literary works, which are checked out by time and millions of readers! My friends tell me, that I am very unusual girl.

As you already know, I like to pose in front of camera. I like to pose for my sexual partners! That's so exciting!