Viktoriya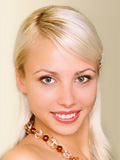 From:
Age at first shoot: 19
Height: 167 cm
Weight: 48 kg

Victoria's Story

Hello! My name is Victoria.

I think that my name corresponds to the certain features of my character: I am a purposeful person and always reach that aim that I have set for myself. Also I am cheerful, lively, and positive girl; however, at certain moments I can be self-restrained, agreeable, and shy, but at the same time direct and insisting.

I have two hobbies. The first one is Latin American and Oriental dances. However, due to the lack of time this is not the main hobby anymore. The second one is photography. I adore to be taken pictures of, especially when I have to change myself during that. I love when the photo session is accompanied by some rhythmical music.

At my free time I like to attend discos, parties, night clubs and restaurants, where I can not only eat in pleasant surroundings, but also sing some karaoke.

I love sea, and that's why each time I have an opportunity to, I travel there. I like to walk along the coast, enjoy watching the sunset, listen to the sound of the waves… Well, what can be more wonderful?

I wish you good luck and good mood!