Viktoriya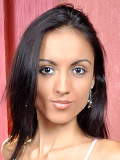 From:
Age at first shoot: 19
Height: 171 cm
Weight: 48 kg

A great big hello to everyone

My name is Victoriya and I want you to know all about me. I'm from Kiev in the Ukraine so I'm a big city girl. I love the bright lights and the nightlife and I'm getting plenty of that now I am modelling. I didn't know whether I would like modelling before I started. I thought I would be too shy. But there is something about doing this which really turns me on. I'm full of surprises and I think there are more to come. I have some ideas of my own about what I'd like you to watch me doing.