Vika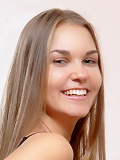 From:
Age at first shoot: 24
Height: 175 cm
Weight: 60 kg

Hello!

My name is Vika. I come from the Ukraine and that's where all the pretty girls are. That's what we say and I think it's true.

I love keeping really fit so what I do is lots of cycling. That way my figure stays good and I get plenty of energy. I reckon both these things are important for my modelling. Someone told me that I looked good bending over and stretching my legs really hard. I think they were talking about my cycling but maybe I got that wrong! All the things I do are very physical. Swimming, tennis, running. I just love feeling my body getting all firmed and toned. I think all that effort has paid off, don't you?