Victoria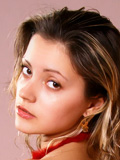 From:
Age at first shoot: 18
Height: 168 cm
Weight: 49 kg

About Myself

Hi! My name is Victoria. I was born in Kiev and have been living here up till present time. I graduated from school and entered a university. At my childhood I dream of becoming a teacher and getting married. I enjoyed with the girls, but my favorite thing to do was cutting out pictures from magazines. I had a lot of friends at school, but I realized that there can't be too many friends, and highlighted one that was my female friend.

But at the age of 15 a big and important event happened in my life, people call it Love. I met a man who did a lot of things for me, and taught me a lot.

Now I am a student. I will become an investigator-criminalist! That was my dream that I have realized in life!

My motto is reaching my aims. I like to socialize with friends. I always feel good together with them. Most of all I prefer to spend time on the that makes me feel relaxed and gives new energy.

I like listening to the music. It inspires me.

Before I was fond of take kwon do, attended a swimming pool, and was fond of skiing. I like eastern dances and I like to listen to eastern music, even my dream is connected with the East. I want to visit Morocco.

I attend shaping section in order to keep myself fit and beautiful.

I really adore the flowers of life!

In future I want to start my own business. I hope I will manage that.