Vera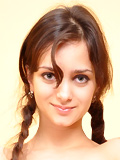 From:
Age at first shoot: 19
Height: 165 cm
Weight: 49 kg

Hello there!

My name is Vera and this is the moment I have been looking forward to. I want you to get to know me really well. Not long ago I was a make-up artist and it is good fun doing that. Part of it is helping the models to feel good and to be confident in front of the camera. Quite often they are nervous.

Now I know what that is like. But I wouldn't change it for anything because it's so exciting for me being there. Everyone is looking at me and that really does things for me. I hope that excitement shows in the films that I have been in so far. There are more that are coming soon and now you know that I am enjoying them just as much as you are.