Tanya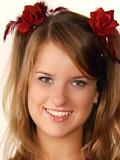 From:
Age at first shoot: 18
Height: 173 cm
Weight: 54 kg

Hey there!

My name is Tatiana, but my friends call me Tanya. I am 18 years old.

I was born in Kyiv and live here all my life.

I am keen on dancing. I've been engaged in the Argentina tango for a long time, but as well like rock'n'roll and other dancing. And I like my body, think it's beautiful. I am high and slender. Now I'm working as a hostess in a night club.

Also like sports. Sometimes enjoy playing tennis or swimming.

Speaking about my character I can say that I'm friendly, kind, generous and honest. I am modest and sometimes shy.

I can keep secrets, I will never let my friends down. And friends I have a lot.

I usually say what I think, that is why people around me often take offence, so last time I began to hide my emotions. But most of all in people I appreciate honesty.