Tanya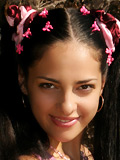 From:
Age at first shoot: 19
Height: 162 cm
Weight: 45 kg

A little about myself!

Hello! Let me tell you a little about myself! My name is Tanya, I am 18 y.o. now. I am a real "summer-girl", because I was born on 1st of July. I like summer very much and, as every girl, I like to sunbathe in mini-bikini very much!

I was born in the small town in Kiev region, but now I live in Kiev, because I am the student. In future I will be economist. Now I prefer to work in bank-office in credit area, because credits are very popular nowadays.

My free time I like to spend with my friends. I have three girlfriends, with which we are on friendly terms during last 7 years. They are best in the world! With them I like to go for a walk, to eat Italian pizza and to dance in night club! I like night clubs very much, because there I can always met new people! Besides that I like animals. They are our little friends and I don't imagine my life without my home pet! I have doggy Hooch! It is best dog in the world!

So, see you at the pages of NuDolls.com!