Tania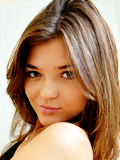 From:
Age at first shoot: 18
Height: 166 cm
Weight: 50 kg

Introducing myself

Hello all I am Tania and I am very pleased to meet you!

I am a typical girl really, I love anything to do with clothes and fashion and I love experimenting with make-up when I go out to night clubs! I am also a big animal lover, especially cats and rabbits. Anything soft and fluffy!

In life I would love to be healthy and happy and have enough money to live comfortably. I like handsome caring men who know how to take care of a woman. In return I love to cook and learning new recipes so any husband of mine would be well fed – that is for sure!