Svetka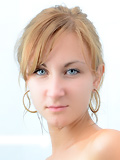 From:
Age at first shoot: 18
Height: 171 cm
Weight: 53 kg

Hello!

Svetka is my name. You can all be my new friends. Until the beginning of this year I was a flight attendant with a major international airline. I took people away on adventures in places they never thought they would visit.

Come to think of it, that is still what I am doing now that I have started modelling. I'd like you to come with me and I will show you destinations you have only dreamed of. I will make that dream a reality and you will enjoy every minute of the ride. Now what I have to remember is that when someone says "Ready for take off" I don't look for my seat belt. I start to get naked. It's a good thing I didn't get mixed up about that when I worked for the airline.