Sveta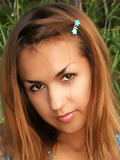 From:
Age at first shoot: 19
Height: 160 cm
Weight: 48 kg

I am amazing girlie!

Hey, how are you? Have you nice mood today? No? Recollect my photosessions and your mood will be fantastic! I am sure, I will get a lot of fun during watching exclusive nude photos and videos with such amazing girlie like me! I am 19 y.o. and I am a student of KPI (one of the most popular Kyiv universities). I am first-year student, but already now I have understood, that students-life – is the best period in life! Only now I can get crazy fun from every hour of my life! And, for sure, I make everything to be happy and satisfied!

I have to say, that my friends help me to get this fun from my life! They are best in the world! We spend every day, every evening and holidays together! Sport, dance, party, birthday…
Each of these events is visited by our fantastic company!

So, just remember few words about me: I am innocent, active and very clever girlie!