Sveta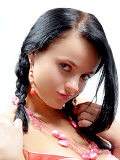 From:
Age at first shoot: 20
Height: 165 cm
Weight: 55 kg

Hi to everyone out there.

I'm Sveta and I'd love you to get to know me better. I'm quite new to modelling though I've won some beauty contests in the past. I entered them for fun and now I find I really enjoy being in front of the camera. When I'm not modelling I get lots of partying done with my friends. Any kind of music as long as it's fast and crazy. I guess I must be that kind of girl.

What I'd really like is to be an international model.All those beautiful clothes to wear and parties to go to. No chance of settling down yet!