Sasha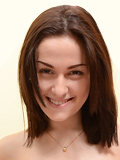 From:
Age at first shoot: 20
Height: 175 cm
Weight: 59 kg

Hello!

I'm Sasha and I am delighted that you are looking me up. It has always been my ambition to be a model. It goes together with my other main interest which is vintage clothing. Sometimes I find something that I know will be perfect for an idea I have for a modelling session. I try it this way then I try it that way then it all comes right. I suppose that is rather like some other things I do.

So now I spend half my day trying on all kinds of glamorous things with my friends. Then I spend the rest of the day taking them all off again in front of the camera. I can't make up my mind which way is the most fun. All I know is that I want to keep on doing both of them every chance I get.