Petrina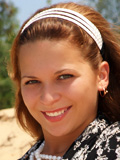 From:
Age at first shoot: 19
Height: 167 cm
Weight: 55 kg

Hi guys!

Welcome to my section at NuDolls.com! My name is Petrina, I am 19 y.o. I live in the capital of Ukraine, in amazing city Kyiv. I like it very much! Now I am a student and I want to be the lawyer.

I can tell you, that I am very active person! I like different fast sports and I don't think, that there are any sports, which were created for men only! I play every game what I want. I like to drive and now I am finishing School of Extreme Driving in Kyiv! I often visit Rally Cross with my friends and once I took third place in 12km race. I am real champion!

For sure, I like to dance and to listen music. Some people said, that I am a real master of erotic dances! Also I have finished Massage School and can give some pleasure to everybody who needs massage.

So, see you at ND! Watch my photos and get fun!