Olena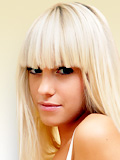 From:
Age at first shoot: 18
Height: 172 cm
Weight: 49 kg

Hello there!

Hello There! Hi there everyone, it is Olena here! Well what can I tell you about myself? I was born in the Ukraine but I have also lived in Russia for a short time. From an early age I have been a lively person – attending dancing classes and taking part in all kinds of sport.

This is typical of my star sign – Sagittarius! We are supposed to be lively and active people and also very passionate. I think this describes me well and I also like to date men who have a lot of energy and passion – they need to be able to keep up with me!

I am a student at an Academy in the Law Department and I find my choice of studies really interesting.