Olena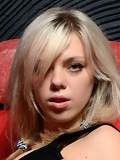 From:
Age at first shoot: 18
Height: 171 cm
Weight: 51 kg

Hello. It's Olena here.

I bet you would like to find out more about me. The main thing you need to know is that when I get into something new I can get really carried away with it. At the moment my big thing is paint balling I am into doing it every chance I get. It must be something to do with racing around with a whole bunch of guys. When they catch up with me it can get quite messy.

It's alright with me because when I get to them I can get them all messy too. By the end of a few hours doing this, out in the woods or wherever, can you imagine the state I am in? I can't wait to take a steaming hot shower with the rest of the girls. Then we are ready to go at it again.