Olena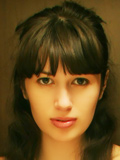 From:
Age at first shoot: 20
Height: 171 cm
Weight: 52 kg

Hello from me

Hello everyone my name is Olena and I would like to introduce myself to you. I am 18 years of age and I live and study at university in Kyiv. I was born and bred in Kyiv so I have never travelled very far but I am happy because I love my city I think it is a lot of fun.

My hobbies include taking fitness class, arts and crafts and I love animals. I also like going out with my friends. I like men who are intelligent and dynamic and funny!

Lots of kisses from me to you!