Olena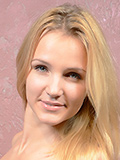 From:
Age at first shoot: 19
Height: 172 cm
Weight: 54 kg

A big "Hello" to you all.

It's great to meet you. My name is Olena and I want to make your day a happy one that you will always remember. That is what I say to the people I meet when I am doing my other job. I am a wedding organiser and people come to me because I can add all those extra touches that make an occasion memorable.

It's very like modelling really. All girls like to dress up even though they know that the time will come when they have to take it all off again. That's part of the excitement. I love to see girls getting ready for their big occasion and sometimes I'd like to be the one wearing the lavish dress. But I'm not sure that white is the colour for me!