Oksana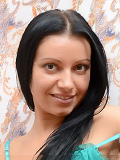 From:
Age at first shoot: 18
Height: 164 cm
Weight: 50 kg

Welcome to my page

I know that we are going to be seeing lots more of each other. It's nice to know that I have your support because I am still shy when it comes to modelling. That surprises me because when I worked in a bar everyone said how outgoing I am. I could keep going all night long and not want it to stop.

I love meeting new people all the time. That's the way I like to think of my modelling. It's like a big party going on and I am playing my part making it all go with a swing. The only difference is that I cannot see you all but I know that you are there. "Have a good time all of the time" is my motto. Somehow I think I am not going to be shy for much longer.