Nelli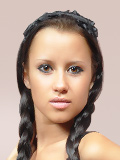 From:
Age at first shoot: 18
Height: 157 cm
Weight: 44 kg

Hey you!

Hi! I am Nelli, an energetic young girl from Kyiv who loves to have a good time! My star sign is Scorpio so you know I am a passionate person with lots of emotion. Right now I am a hairdresser and make-up artist for photographers here in Ukraine and I love doing that.

There are a lot of nightclubs here in my city, and I think I have been to almost all of them. Music and dancing inspire me. They drive my creative spirit! I sing sometimes, and although I think I am pretty good it's really just a hobby. I have some fans from karaoke though!

Eventually I would like to try photography myself. Maybe one day you will see photos I've taken!