Natka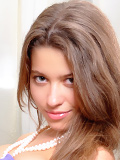 From:
Age at first shoot: 20
Height: 168 cm
Weight: 52 kg

Hi!

I'm Natka and I want you all to sit up and take a lot of notice of me. I promise it will be well worth it. Every time I am in front of the cameras I try to find new ways of making the best impression I can.

For quite a long time I worked with computers but I always preferred people. They are so much warmer and you can put your arms around them and hold them tight. Now I am a model I get to know lots of people. I just love animals too and prefer the small cuddly ones like cats and dogs. So I think that for me it's all about getting really close and really warmed up. It works for me!