Natasha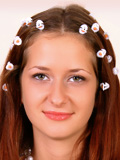 From:
Age at first shoot: 18
Height: 155 cm
Weight: 45 kg

Hello everyone!

I'm Natasha, I'm 18 y.o.

I was born in a wonderful Ukrainian city of Ivano-Frankivsk. At school I was a very vastly talented person; I always was successful in different subjects such as maths and English, arts and literature.

Now, my broad interests still remain. I am fond of reading and exploring the world. I also can't live without Internet and like going to museums and galleries. But i chose to study by correspondence in a maths department of a University in Lviv. I travel a lot and like meeting and getting to know new people.

I also like extreme sports and activities like driving fast in my sports car, parachute jumping, bungee-jumping etc.

This project is also something new for me. I like it being a model and enjoy watching beautiful girls' bodies but NuDolls is something completely different... and seems to be very interesting for me.