Natasha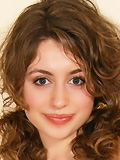 From:
Age at first shoot: 19
Height: 160 cm
Weight: 47 kg

My Hobbies and Aims in Life

Hello! My name is Natalia. By nationality I am half Ukrainian and half Czech. I am fond of many things, but every year I get more hobbies.

My first hobby is learning the world, different countries, cultures, religions, and everything that makes up lives of other nations. Myself I am Christian (Orthodox) by religion.

Also I am fond of music. I have completed music school with perfect grades. I play piano. However, I don't plan to go in for music professionally in future. I like to listen to and dance to the music of different styles. I really like instrumental music, with eastern elements. Also I have a great passion to dancing. By my nature I prefer Cuban, Latin, and other dances. However, I didn't manage to get any professional lessons in this area unfortunately.

But I think that the biggest and most favorite hobby of each girl should be her self. Unfortunately, not every girl pays enough attention to the issue that it is not enough to be born as a woman; it is important to become a woman. For this reason I pay enough attention to myself as a personality from my childhood. Some of my favorite books on this topic are "Greek Getera", "Cleopatra", and others. These books are a proof to the fact that women should devote enough time and efforts to themselves and learn a lot of things in order to get women's wisdom and have power over the hearts of equally intelligent and worthy men.

Traveling is also my big passion. I want to travel the world round and see all the countries, learn all the world's religions.

Also I want to learn as many foreign languages as possible in order to be able to understand people's culture in different countries of the world.

In future I want to get higher education. I want to work only for myself, I mean, to start my own business. I like to work in the field of real estate. Also I like stock markets, shares, bonds, other securities, and investing.

Since I take marriage and family life very seriously, I want to start it when I become mature enough and find my beloved man. I want to have a relationship built first of all on mutual respect, trust, and, of course, love. I really want to have two charming girls and one boy and bring them up just like my mother did with me – put that entire beautiful world that lives in me into them.

Concerning my character, I am maybe very self-confident person and I believe that my destiny is only in my hands and a person can reach all that peaks in their life that are desirable. It is just very important to have a big striving for that and enough faith in oneself and everything a person does.

One of the big values in my life is happiness – the happiness of the people that are close and important to me. Exactly happiness is one on the most important criteria in our lives, as I think, because everything we do and striving for – all that is done for the sake of happiness and harmony in our souls. For this reason the aim of my life is happiness of the people that are dear to me and, of course, my own happiness.