Natasha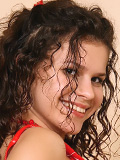 From:
Age at first shoot: 20
Height: 163 cm
Weight: 49 kg

About Myself

Hello, I am Natalia. I have completed a high school, and during my studies there I took active part in all the events and arrangements. At my leisure time I used to attend the circus art section and gymnastics section. I was also fond of dancing.

During my last years at school I took part in the competition called "Miss Spring", in which I won the 1st prize. I went in for athletics actively, attended different competitions, and won 3rd place at the 100 m distance completion.

Sometimes, during my free time, I like to play with children; I fool around a little bit, being not worse than even most energetic kids. For this reason I was chosen to be a teacher for children at a school camp.

After graduating from school I entered National Food Technologies University, the faculty of meat and diary products. I will get a Bachelor's degree. In future I will become a specialist in perfumery and cosmetics products.

At present I regularly attend libraries, acquire knowledge. Also, at my free time I regularly attend fitness academy in order to keep my body perfectly fit.

I like to spend good time with my friends at cafes, bars, or nightclubs.

I am fond of erotic dancing; also I like to play in the bed with my beloved man.

I really like animals, gods in particular. That's why, in future, when I will become an independent girl, I will start a shelter for homeless dogs and cats.

I my life I always want to be on top, speak English fluently, complete a visage course and open a beauty salon that I will call "Cleopatra".