Natalka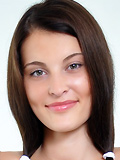 From:
Age at first shoot: 18
Height: 174 cm
Weight: 52 kg

Hello everybody!

Hi I am Natalka I am very pleased to meet you! When I was a kid, I moved to Ukraine together with my parents from Russia and we have been living here ever since. I am a first year student at KPI (one of the most popular Kyiv universities).

I suppose I am a quiet kind of girl, I like to read and choose books about crime – I enjoy both modern and classic detective stories. I enjoy watching horror movies and thrillers too! I also love animals and I have a pet dog (a terrier) and two guinea pigs.

I have to say, that I love my friends, they are best in the world! We have so much fun together playing sport, going to discos and spending time away from the city at the weekends at the beach. There we play volleyball and play in the sand and even swim if the weather is good!