Natalia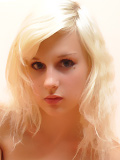 From:
Age at first shoot: 18
Height: 167 cm
Weight: 51 kg

Hello everyone

I am Natalia. It's a big surprise for me to find myself in front of the camera. Until just recently I was studying Film and Media at my local college. I wondered what it would be like to be famous but I never imagined that I would be on the screen myself.

I just entered a beauty competition for a bet and guess what? I came first. So things have taken off from there. It's just as thrilling as I thought it would be and I don't want it to stop. Every session I have I learn something new about how to be sexy for an audience. Now my ambition is to be the next Angelina Jolie. Some day you will be able to tell everyone "I knew her when she was modelling for NuDolls".