Natali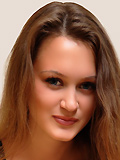 From:
Age at first shoot: 19
Height: 172 cm
Weight: 52 kg

Pleased to meet you

Hello everyone I am Natali and I am here to tell you all about myself. I am 18 years old and right now I live and study at KPI in Kyiv, which is exciting for me as I grew up in a much smaller part of the Ukraine. I like city life, lots of lively bars and cafes and would like to visit the other big cities in the world such as New York, Paris and London. I guess you could say it is my ambition to travel.

My hobbies include swimming, dancing, going out with my friends and I like to use the internet for social networking.

Lots of kisses to you from me!