Nata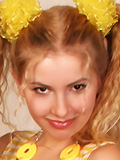 From:
Age at first shoot: 19
Height: 167 cm
Weight: 50 kg

Let me introduce myself

I am Nata and first I want to say that I am very pleased to meet you! I was born in Russia but my family moved to Kyiv when I was a small child. I have been studying Tourism at college, as traveling is my passion.

I like sport because it keeps my body in shape so swimming, skating and dancing are important to me. I think it is good to keep fit and look nice. I like spending time with my friends but also I like time on my computer using the internet and the social network sites and listening to music at the same time!

My perfect boyfriend would be honest, intelligent and kind and hopefully very handsome! I will dream of him and wait!