Nastya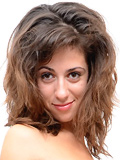 From:
Age at first shoot: 18
Height: 171 cm
Weight: 55 kg

Hello there

I have been looking forward to meeting you. Modelling is all new to me and I think it is marvellous. Before I started doing this I was a nanny. In my opinion I did a good job but some people said that I was too naughty. I can't imagine what they meant. After all, I could be very strict indeed when it was necessary. Lots of people liked that about me and they said I was very good at making sure that they obeyed me. I enjoy making sure that everything is done exactly the way I say.

If something is not done right and to my satisfaction, then there will be trouble for someone. If that is how you like it to be, come back and see me again soon. Nanny is waiting for you.