Nastya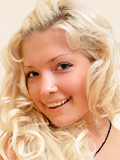 From:
Age at first shoot: 18
Height: 160 cm
Weight: 47 kg

Warmest wishes from me!

Hello all I am Nastya and I would like to tell you all about me. I am 18 years old and my star sign is Virgo.

I am the kind of girl who is always happy – I love my family and friends and enjoy spending time with them. I generally take life easy. I don't see the point in getting stressed so I choose to laugh and enjoy every day as it comes.

I love pretty things like clothes and jewellery and would like to meet a nice man one day who would like to take care of me. I think I would enjoy looking after him too as I enjoy being at home, cooking, painting and spending time with my pets.