Nastya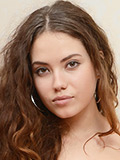 From:
Age at first shoot: 18
Height: 160 cm
Weight: 45 kg

Hi there to you all!

I'm Nastya. The way I see it is that I was born to be a performer. I like nothing better than being in the spotlight. As well as my modelling I am keyboard player in a group I formed with some friends.

So I am no stranger to the fast-paced show business life. I love it when you feel the excitement building up in the audience. Everyone is waiting to see what outrageous thing we will do next. We have quite a reputation. The bit I always like best is when I get a solo spot. When I know that everyone is focussing on me I give it all I've got. I like to think that with this attitude I will be a star turn in front of the camera as well.