Nadya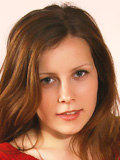 From:
Age at first shoot: 18
Height: 155 cm
Weight: 42 kg

A Story About Me

HI! My name is Nadezhda. I was born in the town of Surgut, Russia. When I was a kid, I moved to Ukraine together with my parents. We have been living here by this moment.

At the beginning of our life in Ukraine we settled ourselves in Donetsk, where I started going to school. However, due to frequent moves I changed 3 schools. I graduated from high school in Kiev. Later I entered the faculty of tourism at college, and I will graduate from it soon. After graduation I plan to work by my profession as a tourism organization manager.

During the years of my studies I found a lot of friends, who understand me and support me in difficult situations. After classes we often spend time together.

I have a sister and two brothers. Now I live with my mother and my sister. My parents divorced when I was little, so I have been living without my father all this time.

At my childhood I was fond of dancing and figure skating, and I still like that. I even like extreme kinds of sports, such as parachute jumps, or jumping from the bridge. I have not tried parachute jumps yet, but I want to do this soon in summer. Concerning jumping from the bridge, I have done this several times already. In general, I am attracted by something dangerous and new.

About myself I can say that I am cheerful, lively, kind, sympathetic, without harmful habits, and learning on my own mistakes. I like socializing with interesting people and getting to know them little by little, since people seem different form they really are at the start.

Concerning choosing my life partner, first of all I consider appearance, and then his moral qualities. After that I decide whether I can find a common language with him. In young men I value honesty, intelligence, light aggression and temper. I think that besides appearance, a man should have a character.

Everything stated above precisely describes my past and present life, and my wonderful future is still waiting for me.