Mayka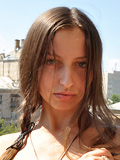 From:
Age at first shoot: 22
Height: 170 cm
Weight: 55 kg

A big hello to you all!

Mayka here. This is the first time I have talked to anyone about the modelling I am doing now.

It has been a sort of secret because I come from a small town and some of my friends are jealous. I think that they would love to be doing all the things I get up to these days. Us girls love to have fun, you know. Anyway the secret is out now and I guess I can't keep it quiet any more.

I am used to performing in front of lots of people because my hobby is gymnastics. I have plenty of practice in getting my body doing all kinds of different things. I have been in some strange positions. It's just that now I do it without any clothes on. Simple really, and I love it.