Masha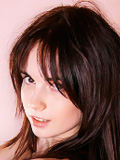 From:
Age at first shoot: 18
Height: 162 cm
Weight: 46 kg

My View of Myself and Other Things

My name is Masha, though my friends call me Miha (Maha) and Manyunya. I was born in the country of sand storms and sweet muskmelons, peaches, and water melons (these fruit are also my favorite) - in Uzbekistan. As a little kid I was living in Moscow, where my little sister Kate was born.

I study at University, my future profession is geoinformatics engineer. Having become familiar with this specialty, I realized that it is not for me. I plan to switch and study the design, as I like to draw and am good at it. I like to dream and create. At school I was going in for dancing. Unfortunately that was not for a long time. Now I adore discos and interesting, active parties with different cocktails. I am a cheerful, sweet, lively girl. I think and know that happiness can be found in every moment of the life. The most important thing is to find the good and bad features about everything, and take all the situations with humor and optimism. s what I always try to do. However, sometimes I also get bored to death, but it would rather happen in the long winter evenings, and less often during the thunder and lightning.

I like to visit cinemas with my boyfriend. We usually attend the last shows and eat a lot of popcorn there. I am fond of going to the beach with my friends. I like to play volley-ball there and build castles from the sand. However, I am not really fond of bathing because I t swim. I adore fast driving with loud music. And I really dislike shopping. I am always surprised with those girls who are wandering around the shops and sales for hours. One of my friends says that it gets her relaxed, though I get relaxed by the green tea. Sometimes m chatting on the internet, because I like all the types of communication: mail, telephone conversations, icq. At home I have a huge box of love letters and post-cards from boyfriends and admirers, and also from female friends. Now I correspond with a girl whom ve never seen in real life. The size of our letters is equal to a 18-sheet copybook. I share all my happiness and sorrow with her; we give advice to each other. Also I like to exchange sms. Particularly at night, when I have bad sleep, then sms communication is like a chat. If we t see each other for a long time with my friend, we make a celebration for ourselves depending on the mood. If we are in a good mood, then we go to a club seeking for adventures and drink martini with grape juice.

I love my black and white terrier Dana and fluffy guinea-pig Nick.

I like Kiev with all its alleyways, chestnuts, and crowded streets. When I get tired of everybody, I take an mp3-player and walk along the city alone. Sometimes I take the dog with myself, if he is calm.

I hate mean people and those who t keep promises and are late for the meetings. Though, m not very punctual myself. I like people who tell everything straight ahead. Then I know that a person will not keep an offense or even anger. My friends are like that.

I really want to travel around the Paradise places of our planet.
I dream of realizing my wishes, plans, and aims.