Marinka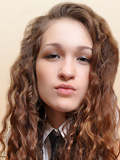 From:
Age at first shoot: 20
Height: 170 cm
Weight: 55 kg

Hello!

My name is Marinka. This is my big chance to introduce myself just like when I was a tour guide. I helped people to enjoy their holidays. But when I was doing that I knew they had not come to see me. They wanted to see other sights but I wanted them to look at me. So now I am modelling that's what they do now.

I'm so happy when people say that looking at me is relaxing and refreshing. Just like being on vacation. I hope to show you all kinds of places you have never seen before. And you will always remember them. I can be like your holiday souvenirs - photos with happy memories you can keep looking at .