Marina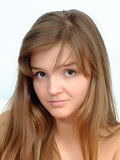 From:
Age at first shoot: 18
Height: 166 cm
Weight: 50 kg

Hi all!

Let me introduce myself. My name is Marina and I'd love it for us to get acquainted. Who knows what that could lead to? I'm sure it will be exciting. You are welcome to take a long, long look.

It seems like only yesterday when I was working in my hair and beauty salon. At that time my job was making other women look gorgeous. I enjoy doing that and being with other girls. Now here I am being groomed for stardom myself. It's a great feeling getting all the attention with my own stylists and make-up girls. It gets me going when I look as glamorous as I can be. I just love the cameras being on me while I am posing. I want to give 100% of me to all you lovely people out there.