Marina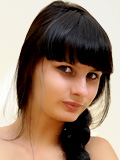 From:
Age at first shoot: 19
Height: 175 cm
Weight: 55 kg

Hi everyone

Hello everyone I am Marina! Let me tell you some things about myself. Where to start? Well I was always a very good student at school and got good grades in a wide range of subjects. This has stayed with me and I still love to read, learn and discover new things.

I love books and the internet and spend time on social networking sites sharing fun things with my friends.

I am a cheerful and lively kind of girl I like socializing with my friends at cafés and night clubs. My ideal man would be intelligent, kind, honest and cheerful too!