Marina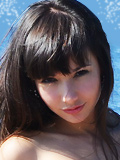 From:
Age at first shoot: 18
Height: 170 cm
Weight: 51 kg

A huge hello to all of you.

I am Marina and my job is to make sure you have a great time. I am sure that you will because that is something I am good at. For the last two years I have been a party organiser. Most nights of the week I have been out in clubs and private houses getting the action going.

So now that I am modelling it is really the same thing. It's a lot more intimate of course. I like that. Now when I am out on location I try to think of ways of getting the excitement going. The next thing to do after that is to keep it up. It's a good thing I have plenty of stamina to keep going. I need it for everything I do! So come along and join in all the fun.