Luda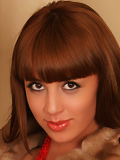 From:
Age at first shoot: 19
Height: 170 cm
Weight: 54 kg

Greetings from me

My name is Luda and I come from the Ukraine. My star sign is Sagittarius and this means I have lots and lots of energy and like to be active! I enjoy swimming and dancing but I always like to be busy. I am very sociable too and I love to go out to nightclubs and party all night!

I am what you would call a typical girl, I love clothes and shoes and handbags and I like reading the top fashion magazines and trying to copy the latest looks. I like men who are handsome and kind. They must be very active too – to keep up with me!