Luda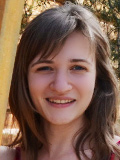 From:
Age at first shoot: 19
Height: 171 cm
Weight: 49 kg

A big "Hello!" to everyone.

I'm Luda and I have been asked to tell you something about myself. I'm very happy to do that because "me" is my favourite subject. I love it when everyone is talking about me. That is one of the reasons that I have started modelling.

For me there is no feeling that is better than being surrounded by photographers and all kinds of other people. They are all looking at me and wondering what I am going to do next. Sometimes I don't know myself what I'll do. That way there are bound to be surprises for all of us. If you have seen any of my work so far you will know that I can make you sit up and take a lot of notice.

There's plenty more to come – keep watching!