Liliya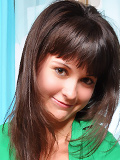 From:
Age at first shoot: 19
Height: 172 cm
Weight: 55 kg

Hi!

Hi I'm Liliya and I'm what you would describe as a typical teen.

I'm an optimist by nature and I always try to be happy and have fun. My hobbies include painting, design, photography and I love using the internet for social networking.

My other great love is music everything from classical to modern dance and techno trance! I love dancing and this is how I keep my body in great shape. I take classes in dance and my favorite style is Latin American dance but I also enjoy dancing the night away in nightclubs.