Liliya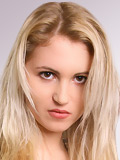 From:
Age at first shoot: 18
Height: 168 cm
Weight: 50 kg

Greetings to all!

To tell about myself is very difficult, and to make it objectively - is almost impossible.

Let me start with couple of facts about me. I was born in Kyiv, studied in school and finished it also here. Now I work as a waitress in a very expensive restaurant at the heart of Ukraine's capital city.

Well, there are no ideal people, and I think everyone has both good and bad qualities. And so do I.

Very different I am. I can be very changeable and very opposite to myself time after time, one time I'm tender and sweet the other I'm absolute devil in the flesh. I love a lot of very different things, sometimes opposite from extreme sports up to flowers. Why I am as I am - I don't know - maybe because I am a Libra by horoscope.

People say "judge a man by what he does" well I do a lot of different things and my interests are very vast. This project is another proof.