Lesya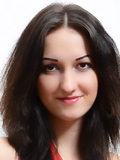 From:
Age at first shoot: 18
Height: 176 cm
Weight: 62 kg

I'm delighted to meet you all.

I am looking forward to entertaining you. That's what I love doing. It's why I became a solo singer. There's no feeling quite like it when I know that everyone is looking only at me. It is because they want what I can offer.

Lots of people were saying that it was not just for my voice either. That got me thinking "Why not? I am here to give pleasure." So now I can do all sorts of different performances. As long as I have an audience I am happy. When people are watching me it makes me want to keep trying something new to please them. Get ready for the show. I'm going to make sure that it's one that you will remember. And it is all especially for you.