Lena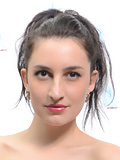 From:
Age at first shoot: 18
Height: 175 cm
Weight: 59 kg

Hi to you all!

I am Lena and I am studying hard while I'm learning how to be a chef. They say it's a man's world for top chefs but I want to be the girl to change that. Until I can do so I'm having plenty of fun along the way. Getting all hot and frantic with the men is my idea of a good time anyway. In the kitchen I can do it from morning till night. Even through the night when we are really busy. It doesn't leave me a great deal of time for modelling.

So when I do have a session in the studio I have to get right to the point as quickly as I can. That suits me. I am used to serving up something very appetising at short notice. Can I tempt your appetite with a little taster?