Lena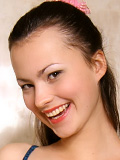 From:
Age at first shoot: 19
Height: 165 cm
Weight: 50 kg

About Me and My Views

Hi, my name is Lena. I was born and grew up in the best city of the Kiev. My childhood was going on at the suburbs, and for this reason I adore the smell of pine tar. Also I like the sea, the scent of Sunflowers are my favorite ones. I like to watch the sunrise near the water, especially near the river. Also I like fluffy dogs, pink color, dresses made from silk, shoes with high heels, decorations from the pearls, cabriolets, energetic music, Japanese cuisine, vanilla ice-cream, cherry margarita, and many-many other things.

I dream of visiting Africa, looking at Kilimanjaro, indigenes, and local fauna.

I study at the university and my future profession is tourism manager. In future I plan to start a tourism company.

I am interested in History. I'm fond of reading books on Psychology, modern and classical detective stories. I enjoy watching horror movies, thrillers, playing computer games, and collecting post-cards with the pictures of animals. I go in for swimming. This summer I plan to jump with a parachute.

I like socializing with people. I have a lot of friends. My easy-going character allows me to resolve conflicts; I can allow a compromise, but at the same time I am able to protect myself. I appreciate sincerity, open-mindedness, and kindness in people's characters. I think that self-confidence and stubborn moving in the direction to an aim bring success in any business. Each person should respect oneself and the society; treat those people that are difficult to understand with patience. I think that one need to be glad to live and treat each mistake, unluckiness or problem as a lesson.

I wish to live my life with a smile.