Lena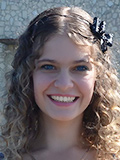 From:
Age at first shoot: 19
Height: 174 cm
Weight: 55 kg

Greetings to everybody.

I am so glad of this opportunity to tell you more about myself. I think it is very important to build up a close relationship. That is something I learned a lot about when I was doing my previous work which was breeding dogs. They respond so well to the personal touch. They know when you are doing your best for them. They are my friends. That is why I like to put as much as I can of my personality into my modelling assignments.

It's a lot more than just a job to me. I think it is important to be really committed. I'm always thinking of ways to give that bit extra. Have a look at all I have been doing. I think that you will agree.