Lena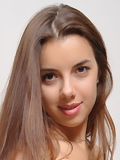 From:
Age at first shoot: 22
Height: 170 cm
Weight: 61 kg

Hello to everyone

My name is Lena and sometimes my friends call me Cleo. That's because I have always loved Cleopatra Queen of the Nile. I think that maybe in a previous life I was one of her handmaidens in her exotic court. I love to think so. She was such a glamorous woman and every man who met her was in love with her straight away. I wonder why I envy her so much? Just joking.

Some day soon I hope to go to Egypt and see where she lived that fantastic lifestyle. I want to sail down the Nile surrounded by all my admirers. Well, a girl can dream, can't she? Meanwhile my modelling comes pretty close to my dream.