Ksenia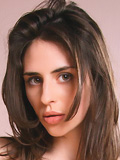 From:
Age at first shoot: 21
Height: 167 cm
Weight: 43 kg

About myself

I was born in Ukraine, on the wonderful slopes of Kyiv and I've been living here all my life. After graduating from school I entered a university and studied perfect there. I am now on the 4th term of it, studying on a scholarship and getting only perfect marks so far.

My zodiac sign is Scorpio. That means I am created for love and passion. I always try to be perfect.

I love dancing and singing, sometimes when I'm alone at home I enjoy singing karaoke while lying in bed. I like song contests and win some prizes almost every time I participate. In dancing I am also rather successful, I regularly take part in belly-dance and latino dance festivals.

I think my body's beautiful. I like it being photographed and like watching my pictures, and adore it when people make compliments to my body, when they say it's amazing. I believe they say the truth and it makes me feel self-confident.

My aim of life is becoming the best in every activities I take part in. Success is my only need.

Here, I'm gonna surprise you all with my charming, sexy and extraordinary sessions. And as a response I'm waiting for your votes.