Kristina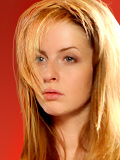 From:
Age at first shoot: 23
Height: 168 cm
Weight: 58 kg

Hello to you all!

It is nice to meet you. I am Kristina, and I come from a small and beautiful town very close to Kyev, where winter is beautiful and summer is full of life! I grew up there with just my mother, and we were very happy. Now I live in the city, but visit often, sometimes as much as every other weekend.

I work in one of the biggest hotels in Kyev and enjoy it very much. I love to meet people from around the world, and besides English (which I think I am very good at) I am teaching myself German and Spanish so I can advance. Modeling is fun, but I see more for myself when I am older.