Kristina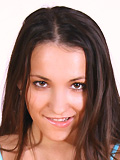 From:
Age at first shoot: 19
Height: 161 cm
Weight: 49 kg

About Myself in Brief

Let me introduce myself. My name is Kristina. I was born in Ukraine. I think that while telling something about myself it is worth to mention about my accomplishments. After graduating from school I entered College and completed my studies there with perfect results. After graduation my profession was the stewardess of water transport. After that I entered Academy. For some time I was working as a waitress for the president of Ukrrechflot company, but now I work for joint-stock ship company as a secretary of commercial director and director of commercial exploitation of cargo fleet. This year I have got a bachelor's degree in Ship Steering.

Concerning my character, I am a choleric. All my leisure time I spend sometimes I go on hikes with my friends and enjoy beautiful nature, but we also attend noisy discos, cinemas, concerts and simply spend time indoors together with the favorite pets. As my zodiac sign is Gemini, I can be quite different. Sometimes I am hot-tempered, lively, and active, but I can also be quiet and romantic. However, regardless of the opposition of these two sides of my character, I am never prevented from realizing my plans. I am fond of bright and rich colors in clothing. I love music, my favorite band is Scorpions. I don't follow any particular style or image and have an opinion that those things are stylish that are beautiful

Of course, as each young lady I love flowers and presents. However, I have a small I can never refuse dark chocolate and marmalade. I have a lot of plans that I'm trying to realize. Also, I have a dream and have made the first steps towards its realization. In the whole I must say that I love colorful and varied life, when each day is not like the previous one.